Important Notes:
This tutorial is a bit outdated. Dream Maker has changed since then and some things
may
be different. But it's pretty easy to figure out.
When uploading an icon: Anything after the instructions given, I can not view myself. So if there is any important information missing, please let me know.
To use a custom icon, you must have

8

stars.
-This article is mainly for ripping custom icons
Icons can be obtained from
Spriters Resource
--------------------------------------------------------------------------------------------------------
*If you have at least 8 Stars and just want to use your icon, skip to "Using Your Custom Icon". If you want to make an icon don't know how to, follow these steps:
1) Open your BYOND Pager, and click on File > Start Dream Maker.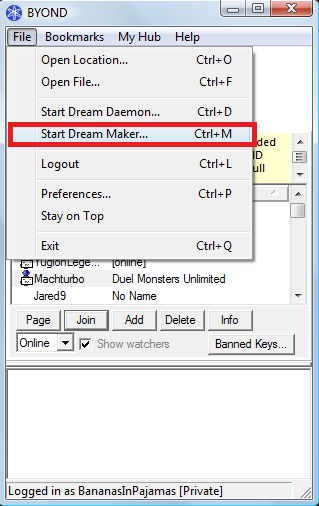 2) In Dream Maker, if you don't have an Environment already made, click on File > New Environment, and name the Environment something you can easily identify, such as Icons.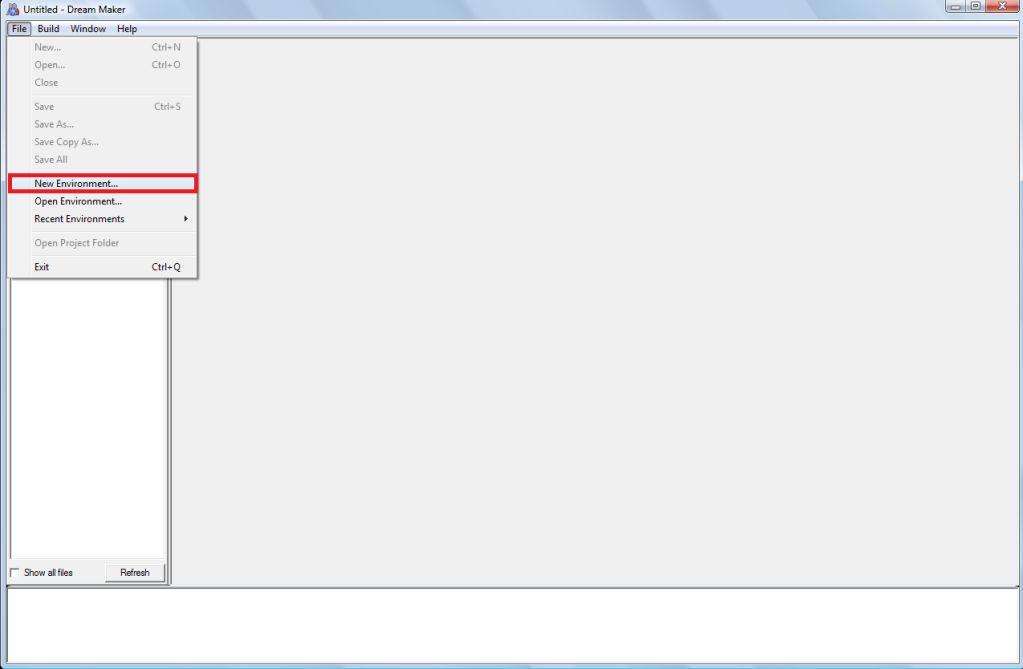 After you name your Enviroment, a pop up will appear. Change the Type to Icon File (.dmi) and the name to Icon.dmi.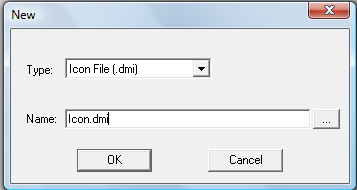 3) Now, at this screen you can either make your own icon, which requires high experience, or you can rip one from one of the sites such as The Spriters Resource.
For now, I am only going to help with ripping. Now, find an icon you want to rip. I chose a Pokemon Rival Silver from The Spriter's Database.
Note: To obey the custom icon rules, your icon must have 4 different directions (North, South, East, West) and Movement states (Which make it appear to be walking).
4) After you choose your icon, and copy+paste the sprite sheet into Paint, In Dream Maker click on the button that looks like a Camera

. It will open a new image that looks like like this: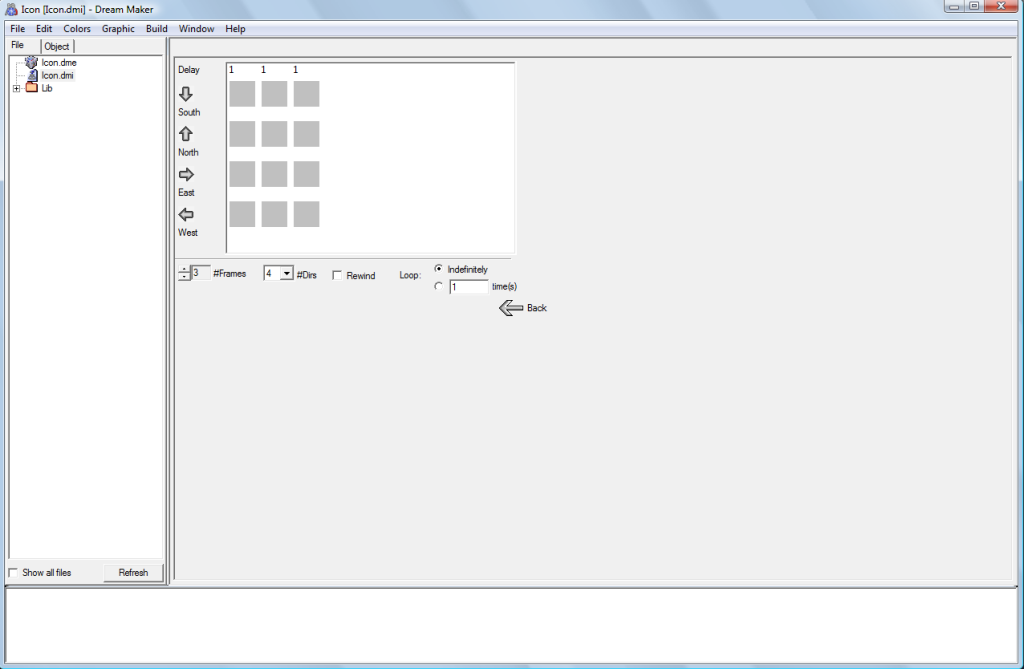 5) Open the first gray (blank) square in the South row.
Go back to your chosen icon and find one that is in the same state as: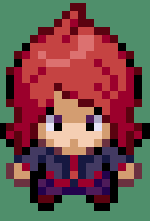 Note: It's easier if you zoom in on the image so you can copy it better.
In Dream Maker, paste it. It should look like this
You will want to remove the ugly green background because that is not needed. Select the flood button, and then right click on the green background. It will remove it.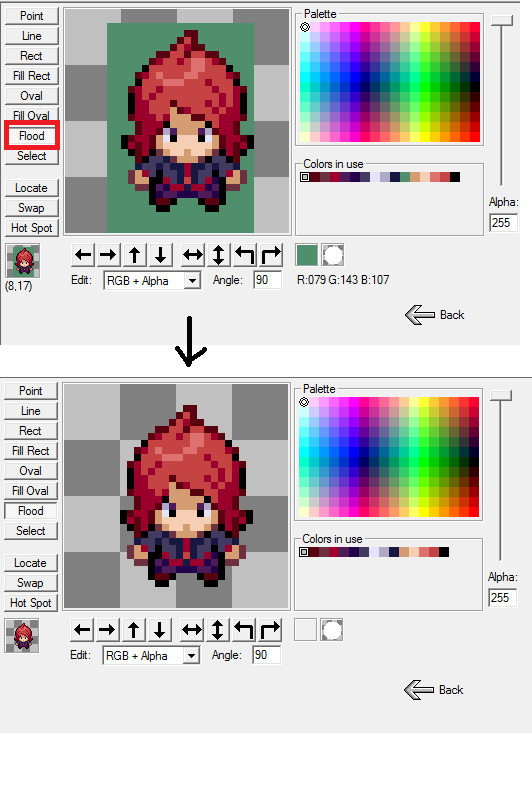 Click on the back arrow
to return to the previous screen.
It should now look like this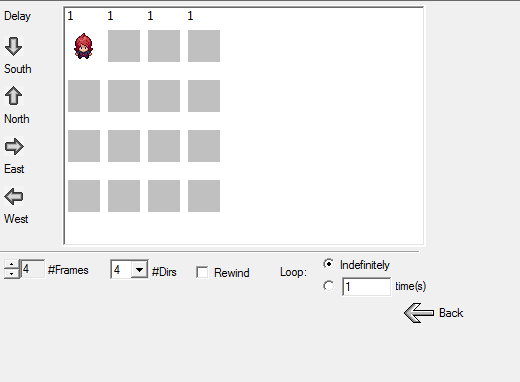 Note: The preview next to it will be flashing.
6) Clicking on each blank square, repeat step 5 until each square has the appropriate icon.
Note: The Frame limit may be set to 3, so increase that to 4.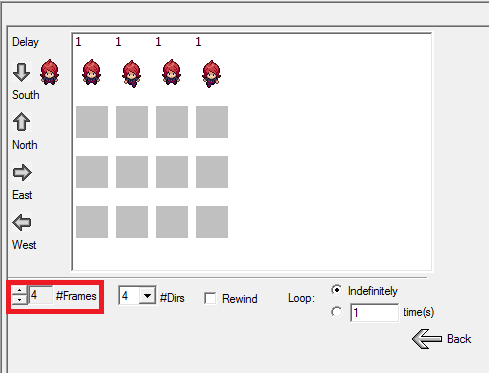 When you are done, it should look something like this:
You are almost done!
Now you just need to change the State to movement. So click on the back arrow
and then right click on the icon and select Edit State.
In the pop up, leave the State name blank, and click the Movement State so that it is check.
.
The Icon will now have an M next to it, which stands for Movement. You can now save the icon by clicking on File > Save.
Congrats! You are done making the icon! Now to use your icon in DMG.
----------------------------------------------------------------------------------------------------------------
~Using Your Custom Icon~
1) Once you have 8 + stars, you either hit
F3
or click on
Options > [F3] Options
2) Then click on the Icons (Kaiba) tile and another window will pop up
3) Click upload and you should be able to browse right to your icon file.